Special Offer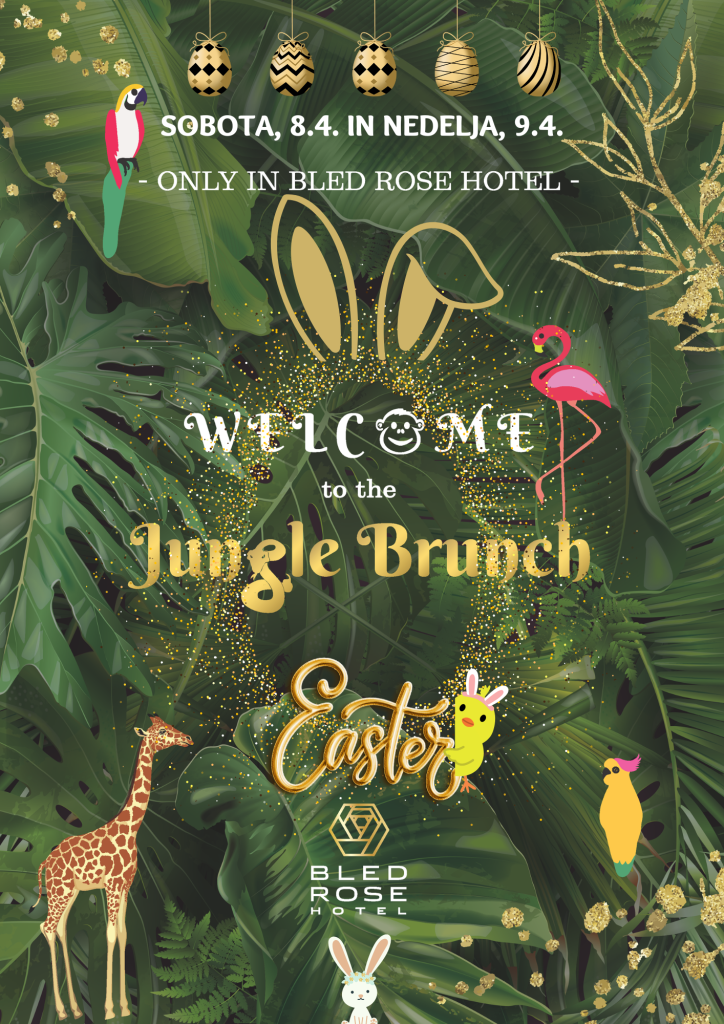 Easter Jungle Brunch
Saturday, 8.4. and Sunday, 9.4. (7.00-12.00)
You are kindly invited to our traditional EASTER JUNGLE BRUNCH, full of easter goodies – there will  be fresh ´potica´, ham in batter, muffins with bunnies,… And real bunnies.
Our traditional easter egg hunt will be organized in our Rose garden – the winner who finds all the treasures first will be awarded with a large golden chocolate egg.
Reservation
House bunny party by DJ Xenia
Friday, 14.4. at 10pm
Are you ready to dance the night away? With hot bunny hostesses, energetic music, and great selection of drinks? Come join us! Free entry.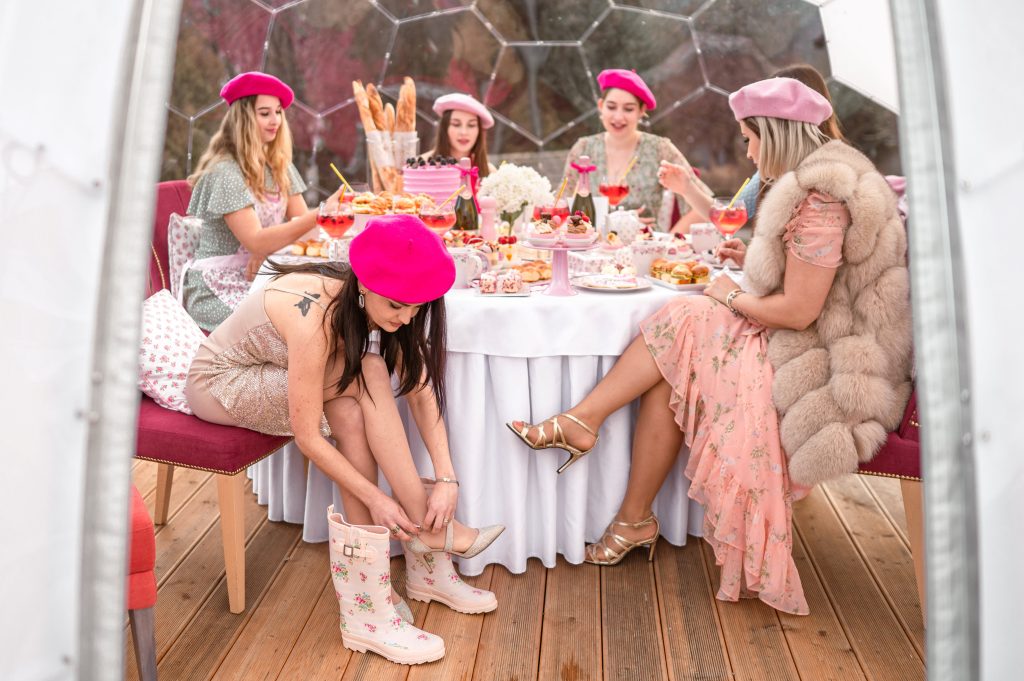 Take me to Paris Tea Party
Our luxury TAKE ME TO PARIS afternoon tea party is an unforgettable culinary experience at Bled Rose Hotel. A luxurious pampering of the taste buds is a great idea for celebrating your birthday, bachelorette party, or an afternoon chat with your best friends. You can choose between our various magical locations: in our Magic Bubble, under the cherry tree in Rose restaurant, in the summerish flower pavilion or  in a picnic style. The beautiful rose set also includes aprons, berets and a canvas for painting.
A full table of delicacies includes: selected savory snacks, French baguettes, croissants stuffed with salmon and ham, tramezzini sandwiches, a selection of cheeses,  cookies, doughnuts, cupcakes, macaroons, sparkling wine, specially selected fresh teas,…
Price: €50/person
*pre-booking required*
Reservation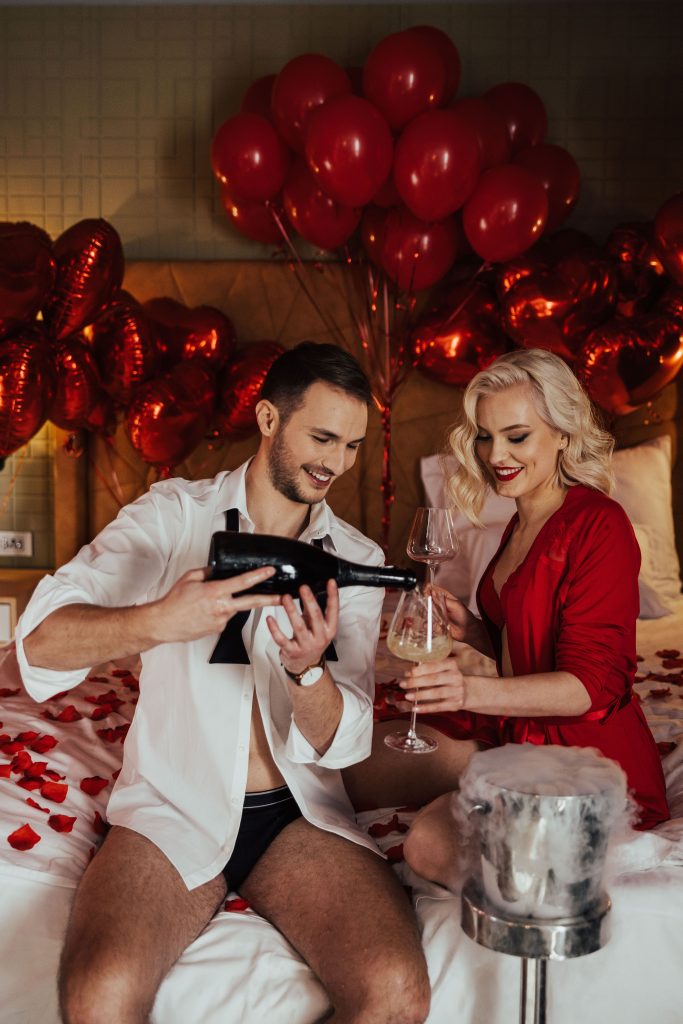 LOVE package
Valid from 18.1. - 12.4.2023
Perfect  getaway for 2 at Bled Rose hotel❤️
LOVE PACKAGE INCLUDES:
1x accomodation in designer room, lake side
1x royal breakfast in bed
1x a la carte dinner in Magic Bubble (romantically decorated, heated, with music)
1x pampering at private VIP SPA room (with sparkling wine and strawberries)
signature coffee for two
Stay an extra night and exprience the next day:
additional accomodation
breakfast in our Jungle
1x traditional 50-minute Thai massage for two
4-course dinner in Rose restaurant
PACKAGE PRICE:
from 550€  per night/2 persons
from 969€ for 2 nights/2 persons
Reservation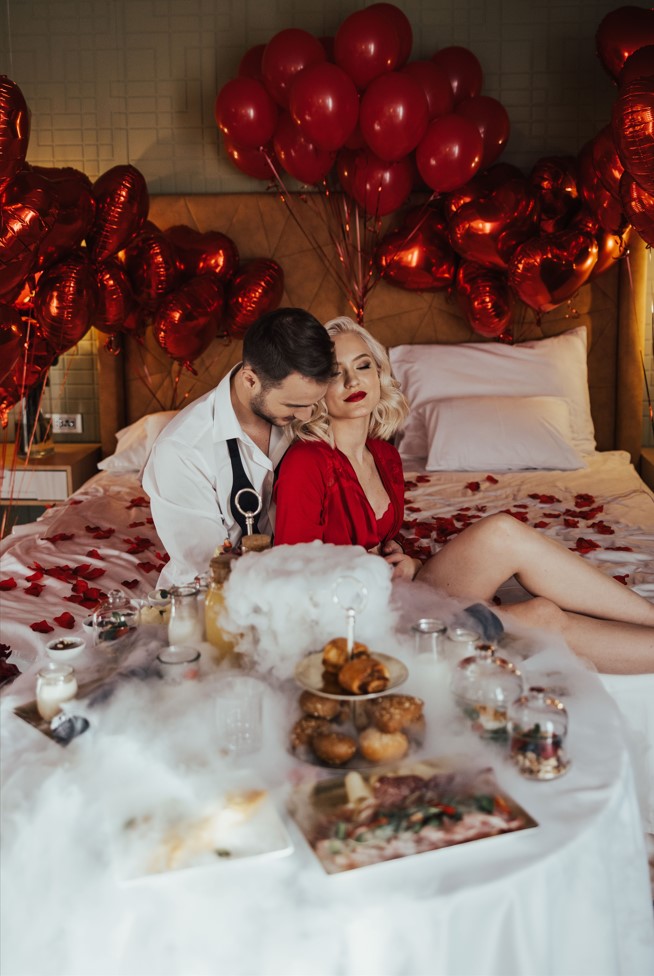 Royal breakfast with special effects
Served in bedroom
Wake up to an unforgettable experience – LUX royal breakfast in bed with special fog effect. Breakfast includes delicacies such as: Chef's bread, butter with smoked salt flower, homemade ricotta, croissant with chocolate and strawberries, poached egg, caviar & whipped egg sauce, omelette with young peas & truffle, Zupan's smoked trout & fennel with yuzu caviar, Mlinaric's dried meat selection, chocolate fondue, smoothie, orange juice, strawberry mimosa.
The price of a royal breakfast in a bed with fog: €99/2 persons
*mandatory prior reservation at least 3 days before the desired date*
Reservation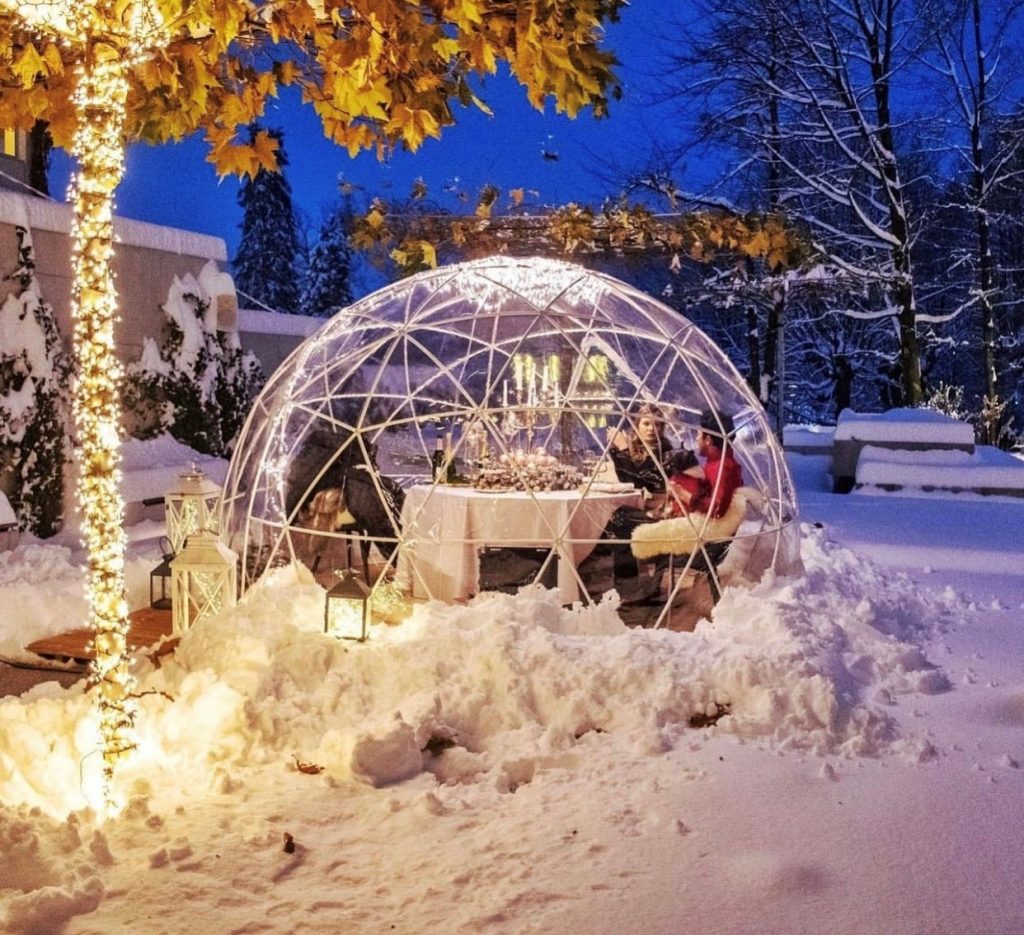 Magic Bubble village
Welcome to the Magic Bubble village, where you can experience countless beautiful moments and experiences in one of our heated bubbles ✨
Romantically decorated, with gentle music in the background, surrounded with winter idyll… Invite your better half to an excellent 3-course dinner or gather your girlfriends for a relaxed get-together over shisha and gin. How about a real English afternoon tea party, a royal breakfast or a cognac tasting for your men squad?
New in: our new biggest bubble takes up to 15 people ?
Reservations:
hotel@bledrose.com
+386 4 579 6000
Reservation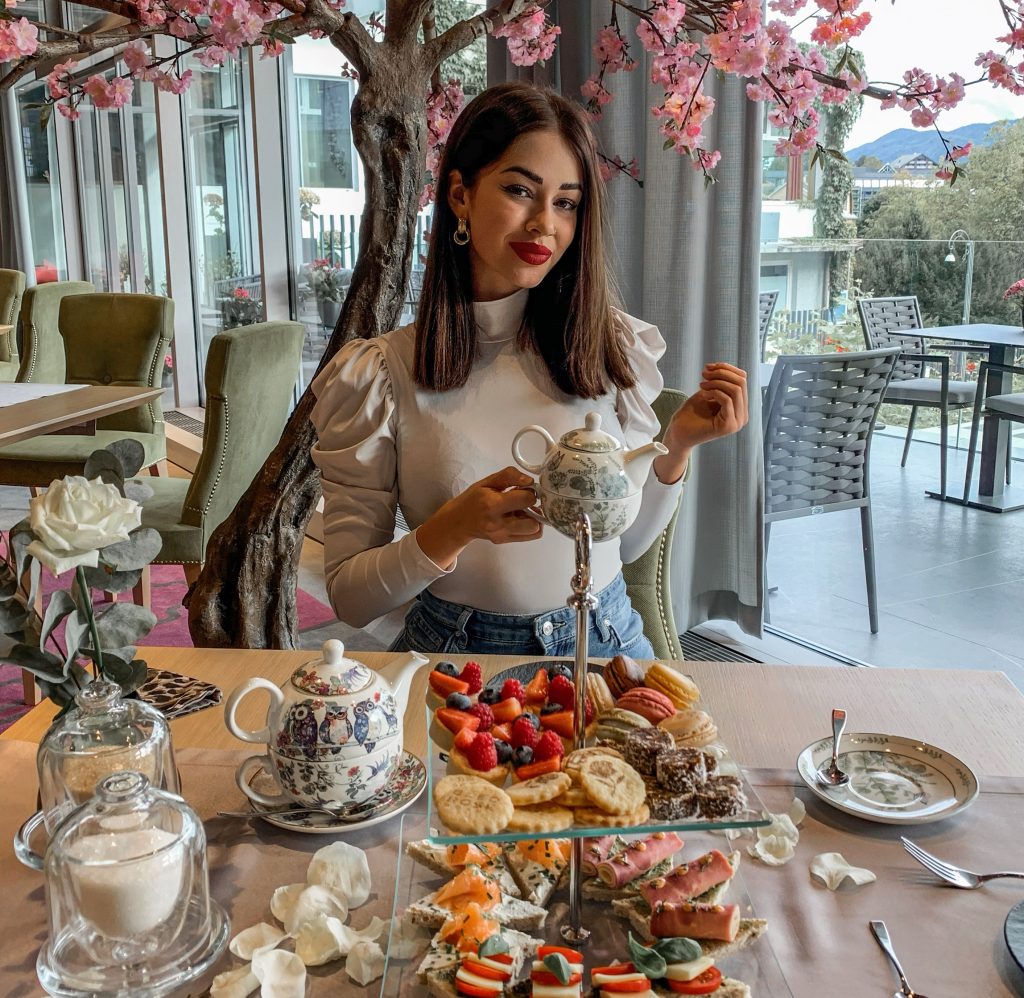 English Afternoon Tea Party
Experience a real English afternoon tea party full of savory and sweet snacks. Our afternoon tea party includes: tramezzini with salmon, tramezzini with ham, cupcakes, mini cakes, macaroons, fruit, a wide range of teas of your choice, freshly squeezed juice, infused water).
Choose one of our prestigious locations and enjoy an unforgettable tea party in: Magic Bubble, under the cherry tree in our Rose restaurant, in the flower pavilion, Jungle,…
Price: €70/2 persons
*pre-booking required*
Reservation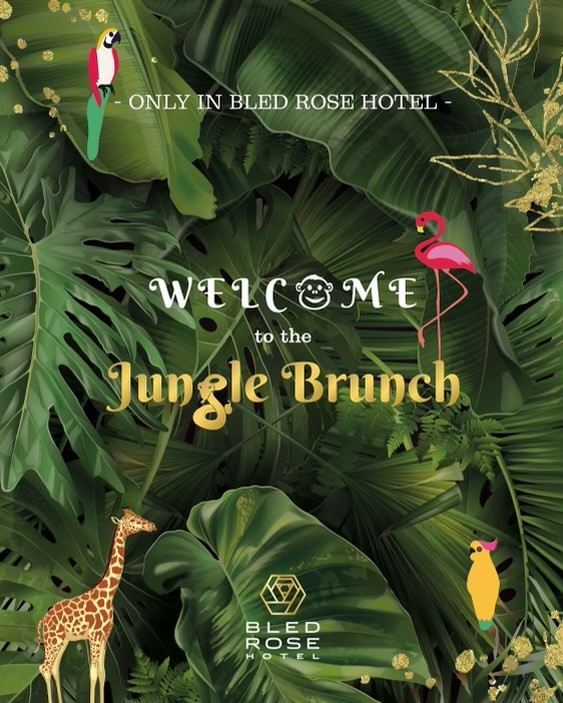 Jungle Brunch
Every Satruday and Sunday (7.00 - 12.00)
Welcome to the most unforgettable brunch of your life.
Every weekend there will be real snakes, a magical jungle mist, visit from gorilla and a DJ, all of them creating an exotic ambience. A wide selection of freshly prepared dishes from local and seasonal ingredients and
an unlimited amount of mimosas.
Price per person: 29 €
Reservation
Royal Jungle Breakfast experience with real Python
Every Saturday and Sunday (7.00 - 12.00)
Breakfast in bed with a python.
Wake up in the middle of the Bled jungle and we will conjure up an unforgettable morning – waking up with a delicious breakfast served in a unique way. An excellent, freshly prepared breakfast of local and seasonal ingredients is served by a waiter with a python around his neck.
Take the opportunity for the craziest photo and enjoy an unforgettable breakfast at our Bledrose Hotel.
Available only on weekends (Saturday and Sunday).
Price of the royal breakfast with a python in a room for 2 people: 150 €
Price of royal breakfast with python in the room for 1 person: 130 €
Advance reservation required.
Reservation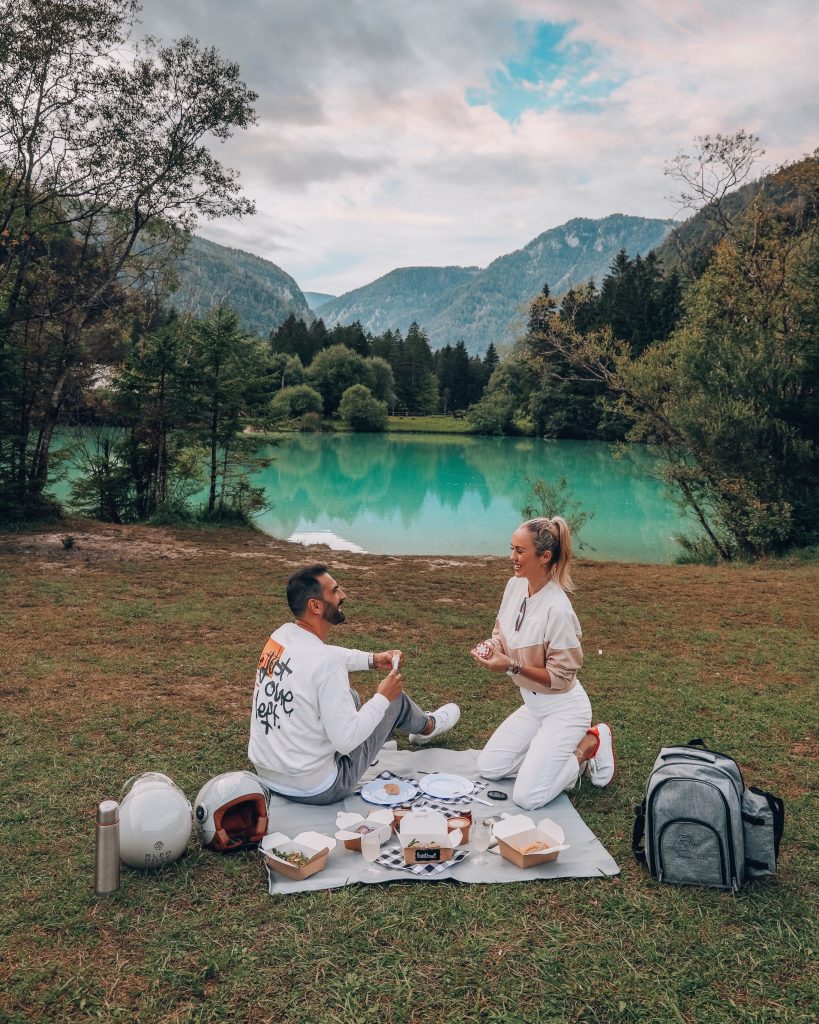 Picnic basket/backpack
Valid until 31.8.2022
1 x picnic basket for two with sparkling wine or a bottle of wine OR
1x picnic basket for family (alcohol free)
choose between a backpack or basket filled with healthy seasonal dishes
meat and vegetarian options, inluding cold and hot drinks
CLASSIC 69 €
GOURMET € 99
Reservation
Stay in touch
Sign up for our newsletter and be among the first to be informed about special offers, discounts, news and exclusive experiences in Bled and its surroundings.